SY20194AQDC -
Features
· Input Voltage Range: 2.5V to 5.5V
· 1.25MHz Switching Frequency
· Max Output Current: 3.0A
· Peak Current Mode Control for the Fast Transient Speed
· 100% Drop Out Function
· Typical 18µA Quiescent Current.
· Low RDS(ON) for Internal Switches (PFET/NFET): 75mΩ/55mΩ
· Hic-cup Mode Protection for Hard Short Condition
· Internal Integration with 10pF Feed-forward Capacitor
· RoHS Compliant and Halogen Free
· Compact Package: QFN3x3-16
Typical Application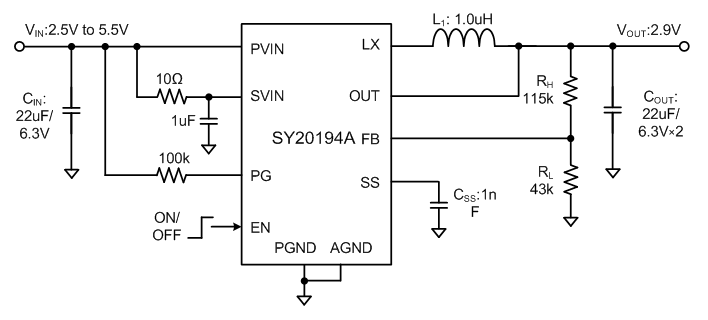 Description
SY20194A is a high efficiency, 1.25MHz synchronous step-down DC/DC regulator with ultra low quiescent current, capable of delivering up to 3A output current.
SY20194A operates over a wide input voltage range from 2.5V to 5.5V and integrates main switch and synchronous switch with very low RDS (ON) to minimize the conduction loss.
Applications
· Set Top Box
· Net PC
· Mini-Notebook PC
· Access Point Router