SY6897ATLC - 2.5V to 16V Protection Switch with Blocking FET Control
Features
2.5V to 16V Input Voltage Range
Extremely Low Power Path Resistance RDS(ON)=30mΩ Typical
Open Drain Indicator Pin for Operation Status
1A to 5A Current Limit
±10% ILIMIT Accuracy at 3A
Programmable OUT Slew Rate
Built-in Thermal Shutdown
Small Foot Print –QFN (2mm×2mm)
Typical Application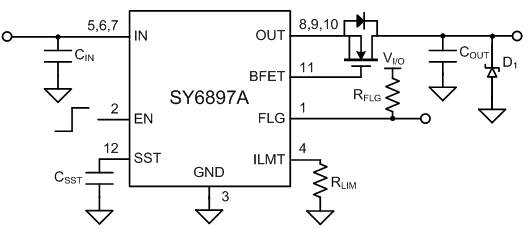 Description
The eFuse SY6897A is a highly integrated circuit protection and power management solution in a tiny package. The device uses few external components and provides multiple protection modes. It is a robust defense against overload, short circuit, excessive inrush current.
Extremely low power path resistance RDS(ON) helps to reduce power loss during the normal operation. An open drain indicator pin is opened to show the operation status of device. It integrates the over-temperature protection and auto-recovery with hysteresis to protect against over current events.
Current limit level can be set with a single external resistor. Application with particular voltage ramp requirement can set SST pin with a single capacitor to ensure proper output ramp rates. An external NFET can be connected "Back to Back (B2B)" with the SY6897A output and the driven by BFET to prevent current flow from load to source when shutdown.
The SY6897A adopts compacted QFN2x2-12 footprint.

Applications
Power Bank
LCD Panel
HDD and SSD Drives
Set Top Boxes
Servers / AUX Supplies
Fan Control
PCI/PCIe Cards
Adapter Powered Devices