SY20702PPC - High Integrated 1-Cell Switching Charger With USB Compliance and USB-OTG Function
Features
High Integrated and High Efficiency
Up to 1.25A Charge Current
Up to 18V Absolute Maximum Input Voltage
6V Maximum Operating Input Voltage
Adaptive Input Current Limit
±5% Input Current Limit Accuracy(500mA and 100mA)
±0.5%(25°C) Charge Voltage Accuracy
I2C Controls(up to 3.4Mbps)
--
Battery Charge Voltage (3.5V – 4.44V)
--
Battery Charge Current (550mA – 1.25A)
--
Termination Current (50mA – 400mA)
--
Battery Weak Voltage (3.4V – 3.7V)
--
Input Current Limit
--
VBUS Threshold for Adaptive Input Current
--
Low Charge Current Mode Enable and Disable
--
Safety Timer with Reset Control
--
Termination Enable and Disable
Integrated Loop Compensation
Internal Soft-start
Bad Adapter Detection and Rejection
3MHz Switching Frequency
Automatical High Impedance Mode for Low Power Consumption
5V,1A Boost Mode for USB OTG 1.93mmx2.05mm CSP-20 Package
Typical Application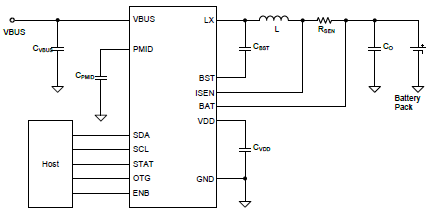 Description
The SY20702 is a high efficiency Buck mode switching charger for 1-cell Li-ion and Li-polymer battery. The SY20702 provides a high integrated solution for the portable device. It integrates the blocking FET, the power FETs, the input current sensing circuits and the charger controller. It is fully USB compliant to minimize the charge time when it is supplied from a USB port. The SY20702 also supports USB OTG with the integrated Boost regulator.
Three internal DACs are used as the reference of battery voltage, battery charge current and adapter input current limit, and programmed by host using I2C. The adaptive input current limit allows the maximum charge current to minimize the charge time and prevent input source overloading.
The SY20702 is available in CSP1.93x2.05-20 package to allow small PCB footprint.

Applications
PADs
Smart Phones
Portable Equipment with Rechargeable Batteries
Battery Back-up Systems