SY20725AAC - 40V, 300mA LDO Regulator
Features
Wide Input Voltage Range: 4V to 40V
Low Dropout Voltage (300mV @ 300mA)
Ultra-low Quiescent Current
Extremely Low Shutdown Current
Stability with Tantalum or Ceramic Capacitors
Excellent Load and Line Regulation
±2% 0.6V Reference Accuracy
300mA Maximum Load Current
Enable Control Input
Over Current Protection
Thermal Shutdown
Compact SOT23-5 Package
Typical Application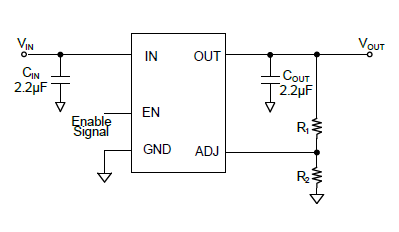 Description
SY20725 is an efficient, precise LDO designed for high input voltage and ultra low quiescent current applications.
SY20725 provides adjustable output voltage with +/-2% accuracy and very low drop out (300mV at 300mA). Other features include the operation stability with low ESR ceramic or tantalum capacitors due to the optimized internal compensation, over current protection and thermal shutdown.
SY20725 is available in SOT23-5 package.
Applications
Battery powered Applications
Automotive Applications
Gateway Applications
Remote Keyless Entry Systems
SMPS post-regulator/ DC-DC modules