SY21251DCC - Boost Regulator with Load Switch
Features
2.5V-5.5V Wide Input Voltage Range
Boost Regulator
o 120mΩ Low RDS(ON) Switch with2.5APeak Current Capability
o Cycle-by-cycle Peak Current Limit
o 1MHz Fixed Switching Frequency
o Enable Control
o Internal Loop Compensation
o Internal Soft-start
o 2.0A Load Current Capability
o Programmable Current Limit
o Enable Control
o Reverse Current Blocking
o Internal Soft-start
RoHS Compliant and Halogen Free
Over Temperature Protection
Compact DFN3×3-12
Typical Application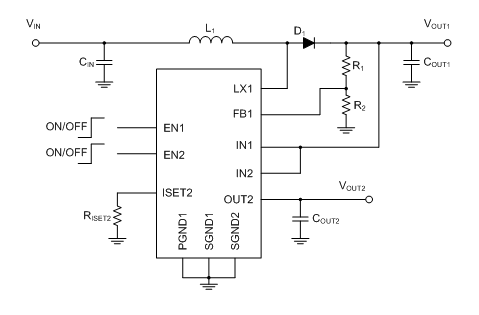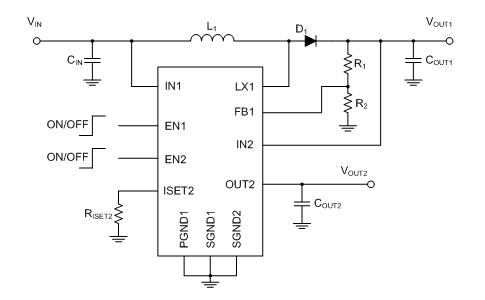 Description
SY21251 contains a Boost DC/DC regulator and a load switch.
The Boost regulator adopts peak current control mode and integrates a 120mΩ low RDS(ON) N-channel MOSFET which is capable of conducting2.5Apeak current. The fixed 1MHz switching frequency and internal compensation reduce external component count and save the PCB space. The Boost regulator also features internal soft start that limits the inrush current at start-up, individual enable control and cycle by cycle current limit.
The load switch integrates an 80mΩ ultra-low RDS(ON) power FET to minimize the power loss. The programmable current limit protects the power source from over current and short circuit conditions. Other features including reverse current blocking and individual enable control.
SY21251 is available in small DFN3x3-12 package.
Applications
USB 3G Datacard
USB Dongle
MiniPCI Accessories
Solar Battery Charger
Backup Battery