SY6819AFAC - 1.2A load switch with Special DFF Control Function
Features
Wide input voltage range: 4.5 to 18V
Up to 1.2A continuous load current capability
Low RDS(ON) : 110mΩ at VIN=12V
Programmable blanking time for DFF control
Start up Sequence:
SY6819: Default On when EN ON
SY6819A: Default Off when EN ON
Low shutdown current
Controlled turn on slew rate to avoid inrush currents
Over temperature shutdown with auto recovery
RoHS compliant and Halogen Free
Compact package : SOT23-6/ SO8
Typical Application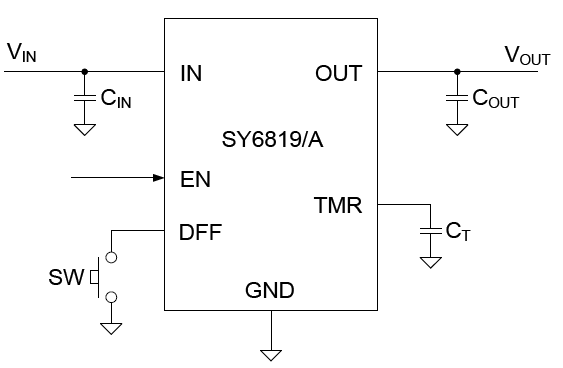 Description
SY6819/SY6819A develops a small size, low RDS(ON) load switch capable delivering up to 1.2A continues current. The device operates over an input voltage range of 4.5 V to 18 V.
SY6819/SY6819A features a DFF (D Flip Flop) input which allows user to flexibly turn on and off the load switch. When DFF pin is pulled low for longer than blanking time, tBLK, which is programmable by CT, the device will change its output state. If the low level on DFF is shorter than tBLK, the device will remain the previous output state.
SY6819/A is available in compact SOT23-6/SO8 package.

Applications
PON,DSL for China Telecom
Set BOX