SY6863B3ABC - 5.5V, 3A Low Loss Power Distribution Switch with Reverse Block Rating Up to 28V
Features
Input Voltage: 2.5V to 5.5V
Output Voltage Withstanding 28V
Extremely Low Power Path Resistance: 45mΩ (typ.)
3A Load Current Capability
Reverse Blocking in Normal Operation or Shutdown
Fault Flag (OCB) Output For Over Current and Fault Conditions
Fast Role Swap Support
Compact Package: SOT23-6
RoHS Compliant and Halogen Free
CB Test certification NO. : DK-64454-A1-UL
Typical Application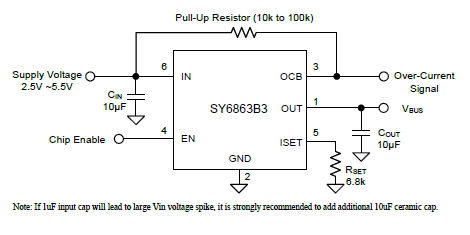 Description
SY6863B3 is an ultra-low RDS(ON), 3A Low Loss power distribution switch with current limit to protect the power source from over current and short circuit conditions.
SY6863B3 has over voltage protection and the output pin can withstand 28V. It incorporates the over-temperature protection and reverse blocking functions.
SY6863B3 supports USB PD3.0 fast role swap. The output voltage can recover to USB valid voltage range within 110µs during USB PD fast role swap event.
Applications
USB 3.1 Application
USB 3G Datacard
USB Dongle
Mini PCI Accessories
USB Charger
Public Place Multi-USB Charger