SY20428ABC - 0.9V Minimum Input and 4V Maximum Output 1.8A Peak Current Synchronous Boost with Output Disconnect
Features
0.9V To 4V Wide Input Range
4V Max Output Voltage
1.8A Internal Switch
Up To 95% Efficiency
< 1ua Shut Down Current
1.2mhz Switching Frequency
Minimum On Time: 80ns Typical
Minimum Off Time: 60ns Typical
Output Disconnect At Shutdown
Low RDS(ON) (Main Switch/Synchronous Switch) At 3.3V Output: 90/200mΩ
Compact SOT23-6
Typical Application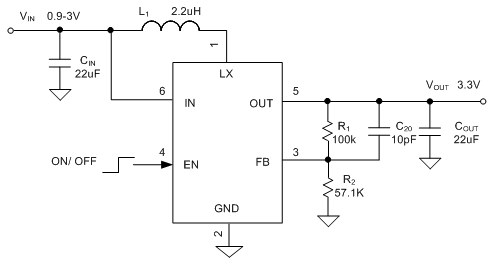 Description
SY20428 is a 1.2MHz fixed frequency, Current mode, high efficiency synchronous boost regulator that converts down to 0.9V input into up to 4V output voltage. It adopts very low Rdson N-MOS for the main switch and P-MOS for the synchronous switch, so no external Schottky didode is required, and the system efficiency is improved. It can disconnect the output during the shutdown operation. The SY20428 intended for systems that are typically operated from a single or dual-cell nickel-cadmium(NICd), mickel-metal hydride (NiMH), or alkaline battery.
Applications
LiIon or LiPolymer Powered Cell Phones, DSCs, PMP, GPS.
Alkaline Battery Powered Electronic Equipment.
Wireless Mouse.