SY20731DSC - Super Low Dropout 1A LDO Regulator
Features
Input Voltage Range: 1.6-5.5V
Output Voltage Accuracy: ±3%
Up to 1A Output Current
Low Dropout Voltage:
Typ. 0.32V at IOUT=1A, VOUT=1.5V
Typ. 0.18V at IOUT=1A, VOUT=2.8V
Current Limiting Protection
Thermal Shutdown Protection
Quiescent Current: 60μA
Output Auto-discharge Function
Over Temperature Protection
RoHS Compliant and Halogen Free
Compact Package: DFN3×3-6
Typical Application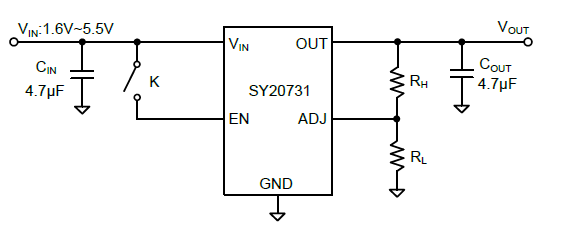 Description
The SY20731 is a super low dropout LDO regulator with small package, capable of delivering up to 1A output current.
Applications
Portable Communication Equipments
Hand-Held Instruments, Notebook PC
Camcorders and Cameras