SY21712VDC - 16V/12A Synchronous Step Down Regulator
Features
Wide Input Voltage Range:
----3.6V to 16V if VCC is Supplied by Internal LDO
----2.7V to 16V if VCC is Supplied by External 3.3V DC Source
Low RDS(ON) for Internal Switches (Top/Bottom): 12.6mΩ/4.3mΩ
0.6V ±1% Voltage Reference Over Temperature Range (TJ = -40°C to 125°C)
Adopt Constant-on-time Architecture and Frequency Lock Loop
Instant PWM Architecture to Achieve Fast Transient Response
600kHz, 800kHz and 1000kHz Switching Frequency Operation Selected by MODE Pin
PFM/FCCM Light Load Operation Mode Selected by MODE Pin
Programmable Bottom Valley Limit by ILMT Pin
Reliable Protection Mode: Auto-Recovery Mode for UVP, UVLO, OTP and OVP
Cycle-by-cycle Valley Current Limit and Peak Current Limit
Cycle-by-cycle Reverse Current Limit
Internal Soft-start Limits the Inrush Current
Programmable Soft-start Time by SS Pin
Smooth Soft-start with Output Pre-biased Function
Adjustable Input Voltage UVLO by EN Pin
Power Good Indicator
Differential Output Voltage Remote Sense
Output Discharge Function
RoHS Compliant and Halogen Free
Compact Package: QFN3×4-19
Typical Application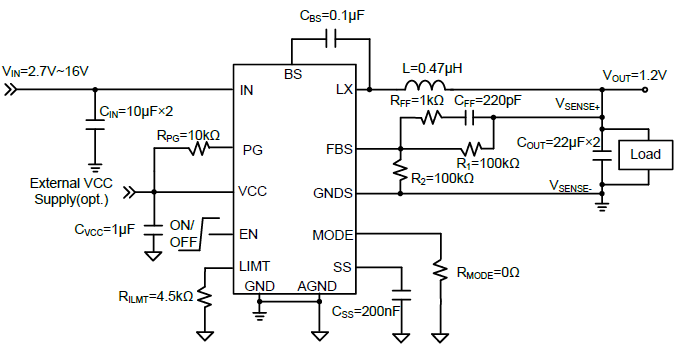 Description
The SY21712 develops a high efficiency synchronous step-down DC/DC regulator capable of delivering 12A current. The device integrates high-side power switch and low-side synchronous rectifier with very low RDS(ON) to minimize the conduction loss. It provides accurate regulation for a variety of loads with an accurate ±1% voltage reference (VREF) over TJ= -40°C to 125°C.
The SY21712 operates over a wide input voltage range from 2.7V to 16V. The DC/DC regulator adopts the instant PWM architecture to achieve fast transient responses for high step down applications. Cycle-by-cycle current limit, hiccup over current protection and thermal shutdown protect the device during an over current condition.
Applications
Power Module
Telecom and Networking Systems
Servers
LCD-TV/Net-TV/3DTV
Set Top Box
Notebook
High Power AP