SY21720VDC - 16V/20A Synchronous Step Down Regulator
Features
Wide Input Voltage Range:
----2.9V to 16V if VCC is Supplied by External Source
----3.6V to 16V if VCC is Supplied by VIN
Internal 7.5mΩ Power Switch and 2.4mΩ Synchronous Rectifier
Accurate Feedback Set Point: 0.6V ±1%
Differential Remote Sense
Fast Transient Response
600kHz, 800kHz and 1000kHz Operating Frequency
Selectable Automatic High-efficiency Discontinuous Operating Mode at Light Loads
Programmable Valley Current Limit
Reliable Built-in Protections:
----Automatic Recovery for Input Under-voltage (UVLO), Output Under-voltage (UVP) and Over-temperature (OTP) Conditions
----Cycle-by-cycle Valley and Peak Current Limit (OCP)
----Cycle-by-cycle Reverse Current Limit
Internal and Adjustable Soft-start to Limits Inrush Current
Smooth Pre-biased Startup
Power Good Output Monitor for Under-voltage and Over-voltage
Typical Application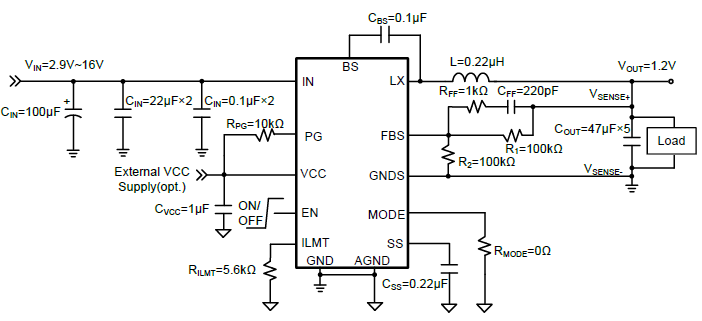 Description
The SY21720 is a high-efficiency synchronous step-down DC-DC regulator featuring internal power and synchronous rectifier switches capable of delivering 20A of continuous output current over a wide input voltage range, from as low as 2.9V up to 16V. The output voltage is adjustable from 0.6V to 5.5V.
Silergy's proprietary Instant-PWM™ fast-response, constant-on-time (COT) PWM control method supports high input/output voltage ratios (low duty cycles) and responds to load transients within ~100ns while maintaining a near-constant operating frequency over line, load and output voltage ranges. This control method provides stable operation without complex compensation, even with low ESR ceramic output capacitors.
The stable internal reference (VREF) provides ±1% accuracy over TJ= -40°C to 125°C, and the differential input sense configuration allows the feedback sensing at the most relevant load point.
Internal 7.5mΩ power and 2.4mΩ synchronous rectifier switches provide excellent efficiency for a wide range of applications, especially for low output voltages and low duty cycles. Cycle-by-cycle current limit, input under-voltage lock-out, internal soft-start, output under- and over-voltage protection, and thermal shutdown provide safe operation in all operating conditions.
The SY21720 is available in a compact QFN3x4 package.
Applications
Telecom and Networking Systems
Servers
High Power Access Points
Storage Systems
Cellular Base Stations