SY22316PS32-G00 - 16-bit Proximity Sensor for TWS Application
Features
PXS Feature
High SNR Circuit Design
Programmable VCSEL Drive Current
Programmable Integration Time, Gain and Sleep Time Settings
Cancellation of Crosstalk
Wide Operation Range
2.8V~3.6V Operation Voltage
-30°C to +85°C Operating Temperature
Ultra-low Current Consumption with Low-power Mode Integrated During Sleep Time
Built-in Temperature Compensation for Driving Current
Good Uniformity for Output Digital Counts
Package Information
Size:2.55mmx1.50mmx0.60mm
Type: SMD BT with Transparent Molding Compound
Typical Application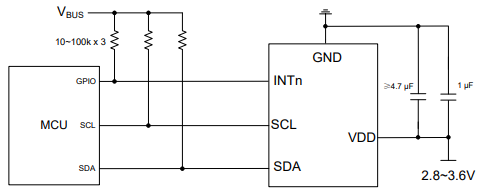 Description
SY22316PS32-G00 integrates a main chip, a vertical cavity surface emitting laser diode (VCSEL) together. With proximity photodiode and high SNR processing circuit integrated on main chip, it can be applied in applications where proximity sensing is necessary, such as slit smart phone and true wireless stereo (TWS).
SY22316PS32-G00 provides an independent pin for two types of interrupt schemes which simplify system design complexity by eliminating the need to poll PXS readings. A SMBus compatible I2C interface (up to 1MHz) is also integrated for easy connection to a microcontroller or embedded controller.
SY22316PS32-G00 design featuring low power operation, high SNR for proximity sensing, high data uniformity, user friendly interface, wide operating temperature range, is suitable for battery-powered equipment with the requirements of proximity sensing.