SY22688FAC - Flyback Regulator For LED Lighting
Features
Integrated 600V MOSFET

Quasi-Resonant (QR) Mode to Achieve Low Switching Losses
Primary Side Control to Eliminate the Opto-coupler
Fast Startup (<300ms)
No Auxiliary Winding for Feedback
Reliable Short LED and Open LED Protection
RoHS Compliant and Halogen Free
Compact Package: SO8
Typical Application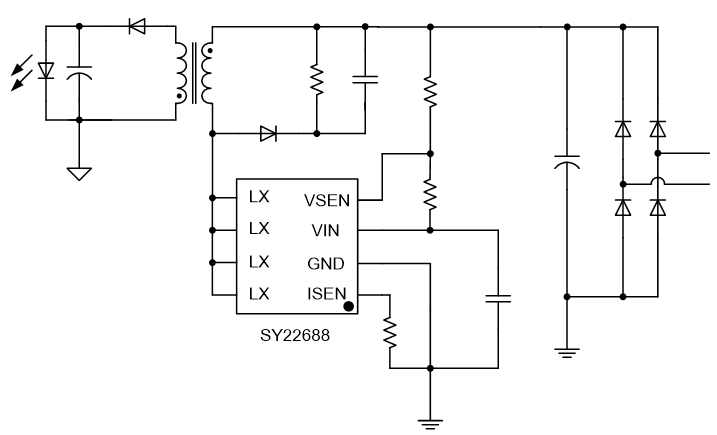 Description
The SY22688 is a Flyback regulator targeting at LED lighting applications.
It integrates a 600V MOSFET to decrease physical volume. It is a primary side controller without applying any secondary feedback circuit for low cost, and drives the Flyback converter in the quasi-resonant mode to achieve higher efficiency. Proprietary self-bias technique saves the bias supply and reduces the startup time.
It integrates open/short LED protection and eliminates the need for opto-coupler or auxiliary winding, thus minimizing the component count and board size.