SY20719QCC - 2.5A, Single Cell Li-Ion DC/DC Switching Charger with I2C Control, USB OTG, Power Path Management
Features
Single Input USB-Compliant/Adapter Charger
– Input Voltage and Current Limit Supports USB2.0 and USB 3.0
– Input Current Limit: 100mA, 150mA, 500mA, 900mA, 1A, 1.5A, 2A and 3A
3.9V–6 V Input Operating Voltage Range
USB OTG 5V at about 1A Synchronous Boost Converter Operation
Narrow VDC (NVDC) Power Path Management
1.5MHz Switching Frequency for Low Profile Inductor
Autonomous Battery Charging with or without Host Management
High Accuracy
– ±1% Charge Voltage Regulation
– ±10% Fast Charge Current Regulation
– ± 2% Output Regulation in Boost Mode
– Power Path Management
– Synchronous Switching MOSFETs
– Integrated Current Sensing
– Bootstrap Diode
– Internal Loop Compensation
– Battery Temperature Sensing and Charging Safety Timer
– Thermal Regulation and Thermal Shutdown
– Input System Over Voltage Protection
– MOSFET Over Current Protection
– Charge Status Outputs for LED or Host Processor
Low Battery Leakage Current and Support Shipping Mode
Typical Application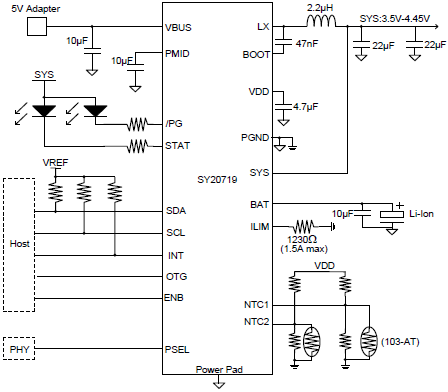 Description
SY20719 is a fully-integrated switching battery charger with an I2C serial interface and system power path management devices for single cell Li-ion and Li-polymer battery in a wide range of tablets and other portable devices.
SY20719 supports the standard USB host port, the USB charging port and the high power DC adapter. The device takes the result from detection circuit in the system, such as USB PHY device. Meanwhile, SY20719 meets USB On-The-Go operation power rating specification by supplying 5V on VBUS with current limit up to about 1A.
The power path management keeps the system voltage from dropping below 3.5V minimum system voltage (programmable), even when the battery is completely depleted or removed. In order to prevent overloading the input source, when the input current limit or voltage limit is reached, the power path management will reduce the charging current to zero firstly, and will discharge the battery to provide the power required by system.
The device initiates and completes a charging cycle without control of the software. It automatically detects the battery voltage and charges the battery in three phases: trickle current, constant current and constant voltage. At the end of the charging cycle, the charger will automatically terminate when the charge current is below a preset limit in the constant voltage phase. When the full battery falls below the recharge threshold, the charger will automatically start another charging cycle. The device contains the negative thermistor monitoring, charging safety timer and over-voltage / over-current protections for safe charging and system operation. The thermal regulation will reduce charge current when the junction temperature exceeds 120°C (programmable).
The /PG output in SY20719 indicates whether a good power source is present or not. The STAT output reports the charging status and all fault conditions. The INT will immediately notify the host when a fault occurs.
SY20719 is available in a 24-pin, 4x4mm2 QFN package.
Applications
Tablet PC
Smart Phone
Portable Audio Speaker
Portable Media Players
Internet Device