SY21603QIC - High Efficiency H-Bridge Motor Driver IC
Features
Dual H-bridge Motor Driver
Maximum Drive Current of 1.5A RMS Current for Each H-bridge
Power Supply Voltage Range from 2.5V to 16V
PWM (IN/IN) Interface
PWM Winding Current Regulation/Limit
Internal OCP/SCP/UVL and thermal shutdown
Multiple Packages Choice: QFN4×4-16
Typical Application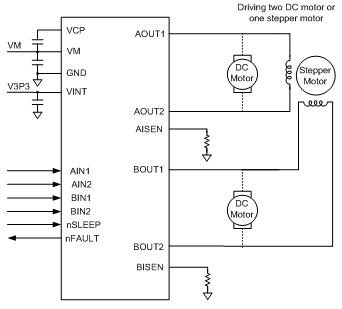 Description
The SY21603 is a dual H-bridge motor driver solution for toys, printers, and other mechatronic applications. The SY21603 operates with a power-supply voltage range from 2.5V to 16V, and 1.5A RMS maximum output current.
The device can drive two DC brush motors, a bipolar stepper motor, solenoids, or other inductive loads. The highly integrated H-bridge driver block consists of two H-bridges with internal logic control, gate drive, over current protection and charge pump circuit. Each H-bridge includes circuitry to regulate or limit the winding current.
The SY21603 provides internal shutdown functions with a fault output pin are provided for over current protection, short circuit protection, under voltage lockout and thermal shutdown. A low-power sleep mode is also provided. The device is packaged in two different types: 16-pin QFN package.
Applications
POS Printers
DSLR Lenses
Video Security Cameras
Toys
Robotics
Game Machines
Office Automation Machines