SY20213BDTC -
Features
· 1.85~5.5V Input Voltage Range
· 3MHz Switching Frequency
· 40uA Low Quiescent Current
· Low RDS(ON) for Internal Switches (PFET/NFET):
350mΩ/250mΩ
· Fixed 100us Soft-start Time
· PFM/CCM Operation Mode During Light Load Programed by MODE Pin
· Hic-cup Mode Protection for Hard Short Condition
· RoHS Compliant and Halogen Free
·
Compact Package: DFN1.45x1-6
Typical Application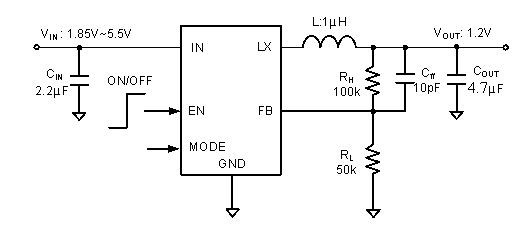 Description
The SY20213B is a high efficiency 3MHz synchronous step down DC/DC regulator IC capable of delivering up to0.6Aoutput current. It can operate in PFM or CCM mode during light load programed by MODE pin. It can operate over a wide input voltage range from 1.85V to 5.5V and integrate main switch and synchronous switch with very low RDS(ON) to minimize the conduction loss.
Applications
· Portable Audio, Portable Media
· Cell phones
· Digital Cameras