SY20703MAC - 3A, 55V Fast-Response LDO Regulator
Features
High Current Capability:3A over Full Temperature Range
Low Dropout Voltage of 450mV at Full Load 3A
Extremely-fast Transient Response
Zero-current Shutdown Mode
Adjustable Output Voltage
Low Ground Current
Protection
1) Over Current Limit ,
2) Output Short Circuit Protection,
3) Over Input Voltage Protection,
4) Over Temperature Protection.
Packages: TO263-5




RoHS Compliant and Halogen Free
Typical Application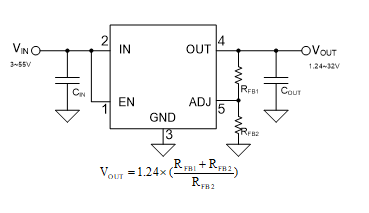 Description
The SY20703 is a 3A current capacity and low drop out voltage regulator, which features very fast transient recovery from input voltage surges and output load current changes. The SY20703 has an adjustable output which can be set by two external resistors to a voltage between 1.24V to 29.6V. The SY20703 with fully protection includes over current limit, output short protection, over input voltage protection and over temperature operation.
Applications
Industry Application
Medical Imaging
Smart Metering