SY20718CQDC - High Efficiency Bi-Direction Power Bank Regulator For Single-Cell Battery Power bank
Features
Maximum 18V Input Voltage Surge
Bad Adapter Detection
Build in Power Path NFETs and Power Switches
500kHz Switching Frequency Operation
Trickle Current / Constant Current / Constant Voltage Charge Mode with Internal Compensation
Maximum 2A Constant Charge Current
Maximum 2.5A Boost Output Current
4.2V/4.35V Selectable Battery Cell Voltage
+/-0.5% Cell Voltage Accuracy
Charge/Discharge/Fault Status Indicator
Discharging Control Logic
Programmable Input Current Limit
Dynamic Power Management
Cycle-by-cycle Peak Current Limitation
Input Voltage UVLO and OVP
Boost Output Short Circuit Protection
Thermal Shutdown
Typical Application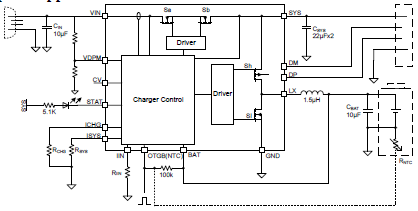 Description
The SY20718C is a 5V adapter input with up to 18V surge bi-directional regulator which is designed for single cell Li-Ion battery power bank application. Advanced bi-directional energy flow control with automatic input power source detection is adopted to achieve battery charging mode and battery power supply mode alternately.
The SY20718C also integrates the discharging enable/disable control and LED status indication.
The SY20718C is available in QFN3x3 package to minimize the PCB layout size for wide portable applications.

Applications
Single Cell Power Bank
Portable Device with Single Cell Battery