SY20745RBC - SMBus Controlled 1-4 Cell Battery Charger Controller Supporting Boost Mode
Features
Input Voltage Range 4.5V to 25V
SMBus Controlled Synchronous Buck Controller with 615kHz, 750kHz and 885kHz Programmable Switching Frequency
SMBus Controls
-Battery Charge Voltage (1.024V – 19.2V)
-Battery Charge Current (128mA – 8.128A)
-Adapter Input Current Limit (128mA – 8.064A)
±0.5% Battery Charge Voltage Accuracy
±3% Battery Charge Current Accuracy
±3% Adapter Input Current Limit Accuracy
±2% 20x Input Current or Charge Current Amplifier Output Accuracy
Internal Charge Pumps for AC Blocking NFETs and BAT NFET
Integrated Loop Compensation
Internal Soft Start
Programmable Adapter Detection and Indicator Support Air-line Adapter
Support 1, 2, 3 and 4 Cells Battery Pack
Support Boost Mode
Battery LEARN Function and Programmable Battery Depletion Threshold
Cycle-by-cycle Peak Current Limit
Battery Over Voltage Protection and Short Protection
Inductor and MOSFET Short Circuit Protection
Thermal Shutdown with Hysteresis
0.65mA(0.8mA Max) Adapter Standby Quiescent Current
5μA Off-state Battery Discharge Current
Package QFN 3.5x3.5-20
Typical Application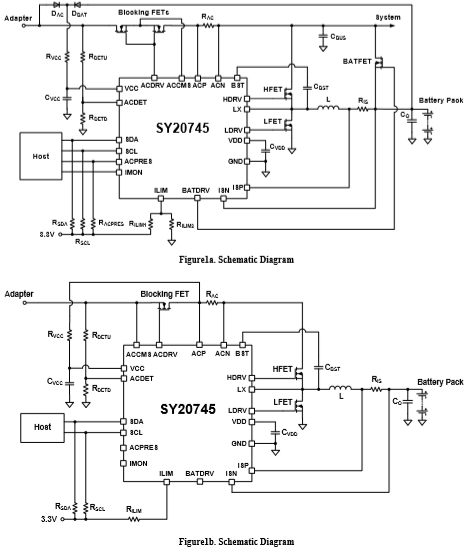 Description
The SY20745 is a high efficient, multi-cell battery charger controller supporting Boost mode. It allows the battery to discharge energy to the system when the system power demand is higher than the input capacity temporarily.
Three internal DACs are used as the reference of the charge voltage, the charge current, and the input current limit. They can be programmed by the system using SMBus.
The SY20745 can charge 1, 2, 3 and 4 cells battery pack and is available in QFN3.5x3.5-20 package to allow the small PCB footprint.

Applications
Notebook and Sub-notebook
Battery Charger Cradle
Portable Equipment with Rechargeable Battery
Battery Back-up Systems