SY20757VCC - QC3.0, FCP, AFC, High Voltage / Current, 3IN1 Bidirectional Regulator for Li-Ion Battery Power Bank Application
Features
Integrated N-Channel MOSFET with 18V Voltage Rating and Extremely Low RDS(ON)
Maximum 5A Battery Charging Current
Support BC1.2
Adaptive Input Current Limit
Trickle Current / Constant Current / Constant Voltage Charging Mode.
Maximum 18W Output Power in Battery Discharging Mode
Programmable Boost Peak Current Limit
200kHz-500kHz Programmable Boost Switching Frequency
Programmable Battery Internal Resister Compensation
Up to 4 LEDs Battery Fuel Gauge Indicator with Programmable Threshold
Support Smart Phone Fast Charge Protocols QC3.0, FCP and AFC
Load Insert Detection
Light Load Auto-shutdown
Battery UTP/OTP Protection
Output OVP/SCP/OCP Protection
Thermal Shutdown Protection
Max 50μA Quiescent Current in Sleep Mode
Typical Application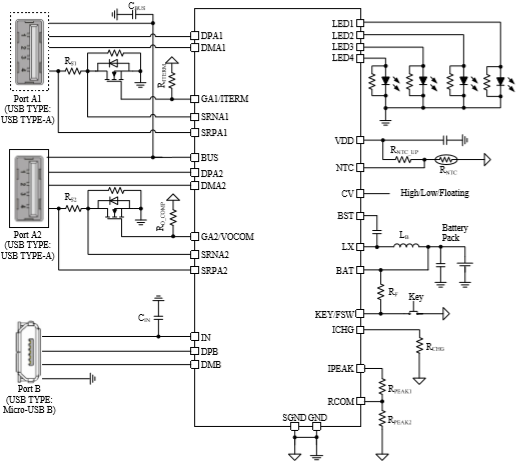 Description
The SY20757 is a 4.6-13.2V input bidirectional regulator designed for single cell Li-Ion battery power bank application. It supports multiple charging protocols, such as QC3.0, FCP, AFC, and Apple Mode. It also integrates the Battery Fuel Gauge Indicator Function, Light Load Detection and Load Insert Detection to provide fully scheme for power bank application.
Advanced bidirectional energy flow control is adopted to achieve battery charging and discharging alternately. If the external power supply is present, the SY20757 will run in Charging Mode with fully protection function; if the external power supply is absent, the SY20757 will run in Discharging Mode with total output capability up to 18W.
The SY20757 has 2 NMOS drivers for external port's MOSFETs to achieve discharging path management. A half bridge with quasi-fixed high switching frequency is integrated to achieve power conversion for battery charging and battery discharging. All of them adopt N-channel MOSFET with 18V rating and extremely low RDS(ON) to optimize operation efficiency and extend the life of battery.
The SY20757 is available in QFN5x5-34 package to minimize the size of PCB layout for wide portable applications.
Applications
Single Cell Li-Ion Power Bank
Portable Device with Single Cell Battery Pack