SY20816CQLC - 2 to 1 Power MUX for USB PD Application
Features
----High Voltage Channel: 4.5V to 23V for VCHG Input Range.
----5V Channel: 4V to 5.5V for V5V Input Range
Smooth Ramp Control When Channel Transition
Reverse Blocking Function
Bi-direction Control for High Voltage Channel
Fast Role Swap
I2C Interface
CC Bypass and Isolation Control
Dead Battery Wake up Function
VCONN Path for E-mark Cable
Protection:
----Output Current Limit Setting
----OCP/OVP/TSD/UVP
RoHS Compliant and Halogen Free
Compact Package QFN3×4-16
Typical Application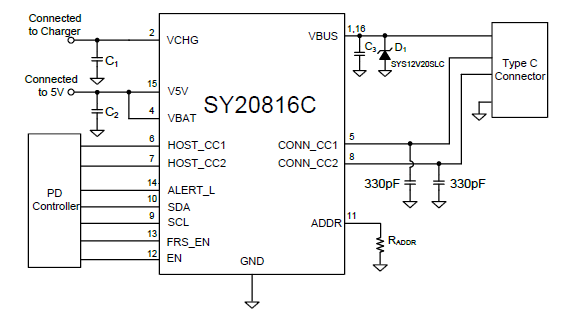 Description
The SY20816C is a 2 to 1 power MUX switch for USB PD application. The SY20816C integrates two low on resistance power paths: high voltage power path and 5V voltage power path. The high voltage power path is a bi-directional channel. It can be configured as sink port or source port. Both directions have reverse block function.
The SY20816C is integrated CC bypass path. HOST_CCx is isolated to CONN_CCx when dead battery or VCONN is applied. If CONN_CCx is selected as CC line, CONN_CCx can be bypassed to HOST_CCx by I2C control.
SY20816C support USB PD fast role swap. Once detected VBUS is lower than 4.75V, the high voltage channel will be shut down and the 5V power path will be turned on in 100us and act as a new source.
Applications
USB PD
Desktop PC
Laptop PC
Smart Phone