SY22659FHC - Single Stage non-isolated Flyback and PFC Regulator for Warm/Cold white LED color mixing and Dimming application
Features
Integreated 600V MOSFET

5%~100% Dimming Range
0%~100% Color Mixing Range
Compatible with 500Hz ~5kHz PWM
Fast Start up, <500ms
Valley Turn-on of the Primary MOSFET to Achieve Low Switching Losses
Power Factor >0.90
Reliable Short LED and Open LED Protection
RoHS Compliant and Halogen Free
Compact Package: SSOP10
Typical Application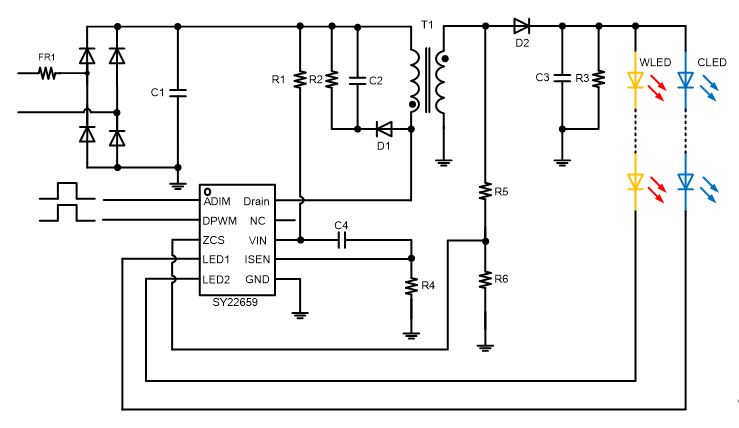 Description
The SY22659 is a single stage non-isolated Flyback and PFC Regulator targeting at warm white and cold white LED color mixing and dimming application, which can achieve up to 5% dimming level, high precision for all loading range and different kinds of light color temperature.
It adopts the proprietary control architecture to achieve an accurate regulation of LED current and Quasi-Resonant valley turn-on high efficiency operation. Proprietary self-bias technique saves the bias supply and reduces the startup time. It keeps the converter in constant on time operation to achieve high power factor.
Reliable short/open LED protection is integrated.
Applications
Warm /Cold White LED Color Mixing and Dimming