SY24108QEC - Analog Class-D Audio IC
Features
2×14W into 8Ω BTL Loads @ <1% THD+N from a 16V Supply
2×20W into 4Ω BTL Loads @ <1% THD+N from a 16V Supply
Wide Voltage Range: 5.6V to 16V
Filter-free Operation
Adjustable Power Limit
Differential and Single-ended Inputs
Internal Feedback Control with High PSRR
High Efficiency Class-D Operation Eliminates Need for Heat Sinks
AM/AF Avoidance
Master and Slave Synchronization
Four Fixed-gain Controlled: 20dB, 26dB, 32dB and 36dB
Selectable BD Mode and 1SPW Mode Modulation
Integrated Protection Circuits Including Under Voltage, Over Temperature, DC Error, and Short Circuit
Comprehensive Click and Pop Suppression
Space-saving Surface Mount 32Pin QFN 5mm×5mm Package
Typical Application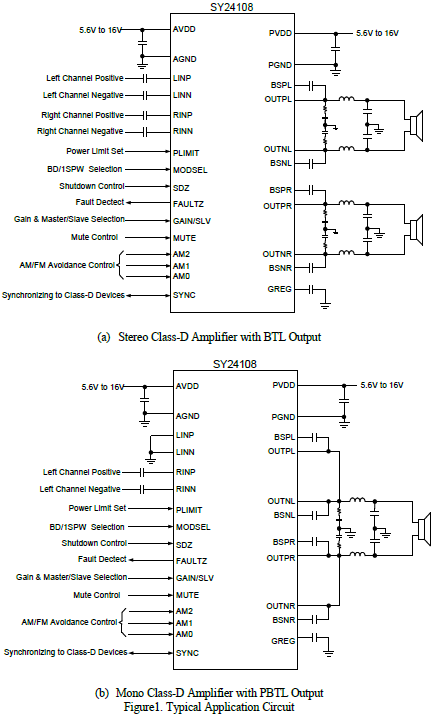 Description
The SY24108 is a Class-D audio power amplifier with analog input and high-power efficiency for driving bridge-tied stereo speakers with up to 2×20W/4Ω. The efficiency of the SY24108 eliminates the need for an external heat sink when playing music.
The SY24108 advanced oscillator/PLL circuit employs a multiple switching frequency option to avoid AM/AF interferences; this is achieved together with an option of Master and Slave synchronization, making it possible to synchronize multiple devices.
The SY24108 is fully protected against faults including short circuit, over temperature, DC error, under voltage. The short circuit, over temperature and DC error protection includes an auto-recovery feature. The under voltage protection with hysteresis can be self-cleared.

Applications
Flat Panel Display TVs
DLP® TVs
CRT TVs
Powered Speakers
Music Instruments
Boom Box
Consumer Audio Applications