SYS02V12AMC - Single Line TVS Diode for ESD Protection
Features
Transient protection for single line
-IEC 61000-4-2 (ESD) ±30kV (Air) ±30kV (Contact)
-IEC 61000-4-5 (Surge) 42A (8/20μs)
For 12V and below operating voltage
Protects one data, control or power line
Capacitance: 400pF (Typical)
Low leakage current: 0.01μA @ VRWM (Typical)
Low clamping voltage
Each I/O pin can withstand over 1000 ESD strikes for ±8kV contact discharge
Typical Application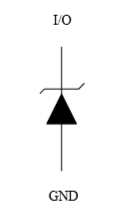 Description
SYS02V12AMC is a single line Transient Voltage Suppressor (TVS) designed to provide electrostatic discharge (ESD) protection for cell phones, notebook computers, PDA's. The SYS02V12AMC is designed to protect sensitive semiconductor components from damage or upset due to electrostatic discharge (ESD)
and other over-current transient events. It complies with IEC 61000-4-2 (ESD)(±30kV air, ±30kV contact discharge), IEC 61000-4-5 (Surge) 42A (8/20μs), very fast charged device model (CDM) ESD and cable discharge event (CDE), etc.
SYS02V12AMC is in SOD-323 package with working voltage of 12 volts. SYS02V12AMC can protect unidirectional line. It offers system designers flexibility to protect single data line, and it can be used to meet the ESD immunity requirements of IEC 61000-4-2, Level 4 (±15kV air, ±8kV contact discharge). SYS02V12AMC has wide applications.
Applications
Power supply protection
Power management
Desktops, Servers and Notebooks
Cellular Phones
Cell Phone Handsets and Accessories
Microprocessor based equipment
Personal Digital Assistants (PDA's)
Portable Instrumentation
Pagers Peripherals