SY20445QMC - 1.8V Minimum Input and 5. 5V Maximum Output
Features
1.8V Minimum Input Voltage
Adjustable Output Voltage from 2.5V to 5.5V
5A peak Current Limit
Input under Voltage Lockout
Load Disconnect during Shutdown
Output Over Voltage Protection
Input Battery Voltage Monitor
Automatic Output Discharge at Shutdown:
o SY20445: Auto Output Discharge Function
o SY20445A: No Output Discharge Function
Low RDS(ON) (Main Switch/Synchronous Switch) at 5.0V Output: 20/40mΩ
Compact Package: QFN2x2-10
Typical Application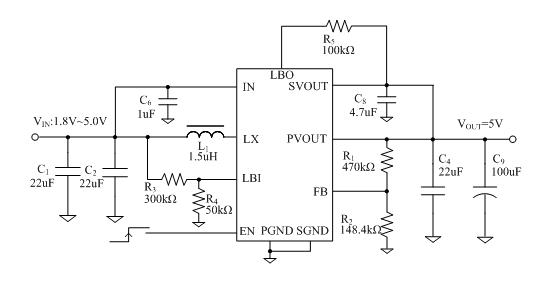 Description
SY20445/SY20445A is a high efficiency synchronous Boost regulator that converts down to 1.8V input and up to 5.5V output voltage. It adopts NMOS for the main switch and PMOS for the synchronous switch. It can disconnect the output from input during the shutdown mode.
Applications
All Single Cell Li or Dual Cell Battery Operated Products as MP-3 Player, PDAs, and Other Portable Equipment