SY21605ABC - Low Voltage H-Bridge IC
Features
-
Drives a brush DC motor or one winding of a stepper motor or other loads
- Low MOSFET on-resistance: HS + LS < 380mΩ
1.8A maximum drive current
Power supply voltage range from 2.5V to 16V
PWM (IN/IN) interface
Low power with less than 160µA supply current
Internal over current protection, short circuit protection, under voltage lockout and over temperature protection
Internal charge pump with capacitor inside
Compact package: SOT23-6
Typical Application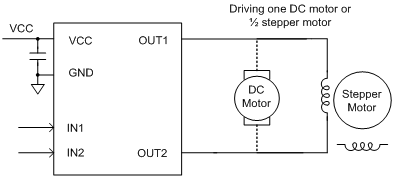 Description
The SY21605 is an H-bridge motor driver solution for cameras, consumer products, toys, and other low-voltage or battery-powered motion-control applications. The device can drive one winding of a stepper motor or one brush DC motor. The highly integrated H-bridge driver block consists of two half-bridges with internal logic control, gate drive, over current protection and charge pump circuit.
The SY21605 operates with a power-supply voltage range from 2.5V to 16V, and 1.8A maximum output current.
To be compatible with industry-standard devices, the SY21605 use the PWM (IN/IN) input interface.
The SY21605 provides over current protection, short circuit protection, under voltage lockout and over temperature protection.
Applications
Cameras
DSLR Lenses
Consumer Products
Toys
Robotics
Medical Devices