SY21612BQFC - High Efficiency, 28V Input Single Inductor Synchronous Step Up/Down Regulator
Features
Bidirectional Power Delivery: Source Mode and Sink Mode
4V to 28V Input Voltage Range
Low RDS(ON) for Internal Switches: 25mΩ
Internal Soft-start
8-bit ADC for Output Voltage, Input Voltage and VBUS Output Current Detection
Fully Protected for Output Over Current, Short-circuit and Over-temperature
I2C Compatible Interface
--Support Interrupt for Status Feedback
--Selectable Switching Frequency:250kHz, 500kHz, 750kHz, 1MHz
--Selectable VBUS Output Voltage:5V, 9V, 10V, 12V, 15V, 20V
--Selectable Inductor Current Limit and VBUS Output Current Limit
Compact Package: QFN4×4-32
Typical Application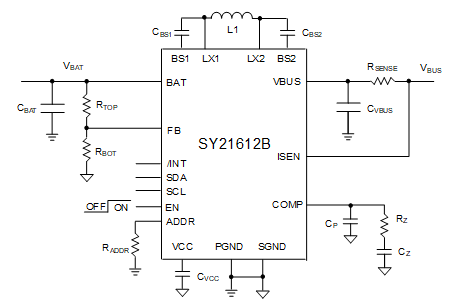 Description
The SY21612B is a high voltage Buck-Boost converter for USB power delivery applications. With user-selectable source mode and sink mode, it features bidirectional power delivery. In source mode, the output voltage VVBUS is 5V, 9V, 10V, 12V, 15V, 20V selectable. In sink mode, the output voltage VBAT is adjustable with an external resistor divider.
The device operates over a wide input voltage range from 4V to 28V and the maximum average inductor current is limited to a typical value of 10A. The four integrated low RDS(ON) switches minimize the conduction loss.
The SY21612B integrates an I2C compatible interface for mode selecting, output voltage setting, frequency setting, protection setting, and etc.
The device is available in compact QFN4×4-32 package.
Applications
Docking Station
Laptop
High-end Power Bank
Monitor
Car Charger
USB PD